The Artist's Statement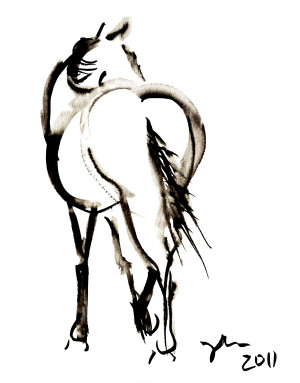 Painting to me is like grooming a horse onto the page; each horse comes alive with personality as I brush the ink across the paper with deliberate bold strokes!
I tend to paint my horses in a stylized fashion – conveying essence of the horse which gives the viewer an opportunity to connect with their own equine experiences. My painting style originates from the years I spent as a youth grooming horses in order to ride, and from spending hours on the ground watching my friends ride.
My inspiration for painting comes from my lifelong love of horses and from my treasured collection of horse art.  My artistic influences run the gamut from Franz Marc and Leonardo daVinci to Chinese brush and ancient cave paintings. I am also inspired by Northwest equine rescue organizations and I donate a portion of each sale to their cause.